Reviewed by Mary McLaughlin, Special Education Teacher; M.S. SpEd
<!- mfunc feat_school ->
Featured Programs:
Sponsored School(s)
<!- /mfunc feat_school ->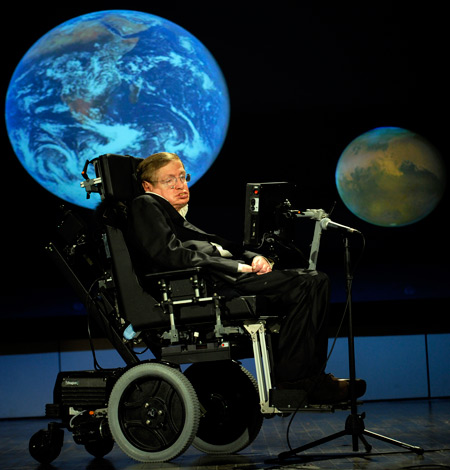 For disabled people, daily life can seem like an impossible challenge. Prior to his passing in 2018, Stephen Hawking was all too familiar with the challenge of living a fulfilling life while being limited by disabilities. In fact, since his birth in 1942, he battled a disability for the better part of his life. While most people with amyotrophic lateral sclerosis (ALS) die prematurely, Hawking had pushed through his illness and become a world-famous physicist and more importantly, an inspiration to us all. Over the years, his work in theoretical physics captured the public eye due to his intelligence, exceptional insight, tenacious research, and creativity.
A Life Lived to the Fullest
Before Stephen Hawking was diagnosed, he was an unexceptional college student. After experiencing some unusual symptoms, he was diagnosed with ALS. In moments, he went from being bored with life to having a life-threatening challenge ahead of him. He was expected to live only a few months after his diagnosis. As anyone who ever listened to him speak knows, Hawking outlived this prediction by more than half a century.
Instead of depressing him, the diagnosis gave him a renewed will to live. He knew that he may only have a few months, possibly years to live, and this changed his entire perspective. As his body began to deteriorate, he made great strides in theoretical physics. In the 1960s, Hawking showed that mathematically reversing the creation of black holes explained how the universe could have expanded.
<!- mfunc search_btn -> <!- /mfunc search_btn ->
ALS may have forced Stephen Hawking to live in a wheelchair and use a computerized voice synthesizer, but it didn't damper his bright outlook and sense of humor. In fact, he used to joke around about using the voice synthesizer, "the only trouble is it gives me an American accent".
Getting the Diagnosis
As any parent knows, having a child with a disability or special need is hard. Being that child can sometimes be impossible. Hawking was clumsy and not particularly good at hand-eye coordination as he was growing up. But he didn't let that stop him from his studies. Years later at Oxford University, he took up rowing and finally found a sport that he excelled at. By his third year, Hawking began noticing that he was increasingly clumsy. The following year, his father made him go to the doctor for tests. Two weeks later, the diagnosis came back. Hawking had an incurable disease and was expected to die within months at worst, two or three years at best.
Initially, he was shocked to realize that his life would end so soon. For people with ALS, death often arrives when they are unable to swallow food or when the lung muscles stop working. Hawking began to dream that he was being executed at night or that he had the choice to die to save other people. Despite the grim prognosis, Hawking found that he was able to return to normal life and soon became engaged. The engagement gave him something to live for, and a research fellowship at Cambridge University gave him a purpose.
As the years progressed, Stephen Hawking became increasingly recognized in the scientific community. His new status and international fame made it easier to get accommodation close to his work, and colleges were more willing to hire him.
By the 1980s, his disability was starting to become too much. At the time, he was able to slur words that were interpreted by people who knew him well. After a case of pneumonia and a tracheotomy, Hawking was unable to speak at all. Luckily, a computer expert from California heard of his predicament and created a program called the Equalizer. Through a switch in his hand, Hawking was able to speak again. Over the years, Hawking's voice synthesizer had been modified as his disability progressed, eventually identifying movements in his cheek muscles to understand the words he wanted to say.
Hawking's Advice for People With Disabilities
In a 2009 edition of the Annals of Neuroscience, Stephen Hawking wrote an in-depth piece about life with ALS and how people with disabilities can continue to enjoy their lives. Hawking was frequently asked about how he feels about ALS, and his response was always that he didn't feel anything significant about it. Instead of dwelling on his condition or worrying about the things he was unable to do, Hawking tried to live his life as normally as possible. He felt that worrying about things outside of his control was a waste of the limited time that he had on earth.
To other people with disabilities, Hawking recommended that life should be lived to the fullest without placing a focus on the disability. While some people may be disabled physically, they do not have to be disabled in spirit as well. Hawking enjoyed a rewarding career and raised a beautiful family despite his illness.
<!- mfunc search_btn -> <!- /mfunc search_btn ->
Although each disability and individual is unique, Hawking believed that it is always possible to live a fulfilling and rewarding life.
A lesson we all need to learn. And live.
Related Links
The National Center For Biotechnology Information
The Washington Post
Scientific American
The University of Washington
Annals of Neuroscience