Reviewed by Mary McLaughlin, Special Education Teacher; M.S. SpEd
<!- mfunc feat_school ->
Featured Programs:
Sponsored School(s)
<!- /mfunc feat_school ->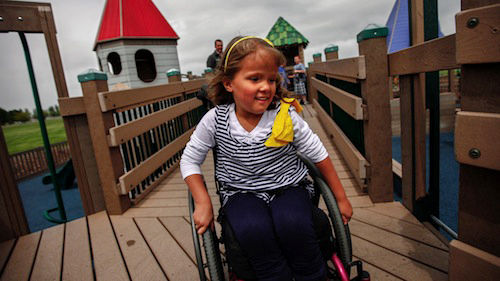 All children deserve to experience the thrill and escapism of meaningful physical play. What's more, it just takes a bit of thought and planning, and everyone can enjoy the exhilaration and magic that arguably only playgrounds can produce. Of course, more than anything it's about social interaction – and in this respect no child should be left on the sidelines.
<!- mfunc search_btn ->
<!- /mfunc search_btn ->
Play parks without proper wheelchair access and equipment suitable for all visitors – including those with special needs – are relics from the past. Here we look at 30 of the best accessible  playgrounds around the world.
30. A Dream Come True – Harrisonburg, Virginia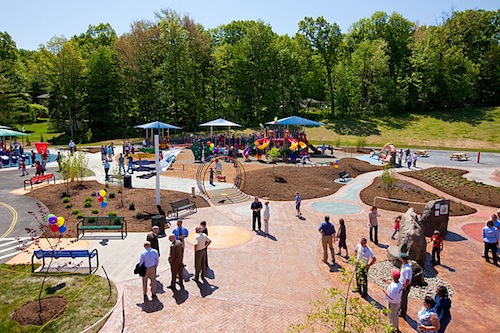 PlayCore's Play & Park Structures and Southern Playground teamed up to create the A Dream Come True playground. Located in Harrisonburg, Virginia, the project was the brainchild of a group of Girl Scouts whose dream it was for there to be a space where all kids could play alongside one another. The Girl Scouts embarked on a mission to acquire the necessary funding, approaching local religious groups and companies for donations while also applying for grants and selling cakes and cookies. It took almost a decade, but eventually, enough money was raised for the $1.4 million facility to be built. The equipment is for all age groups and there are Made-for-Me swings designed for kids who need extra body support.
29. Westchester Recreation Center – Los Angeles, California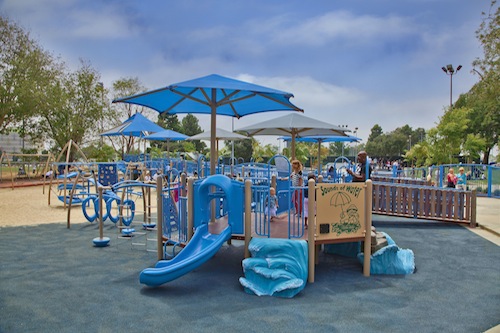 Los Angeles' Westchester Recreation Center features a colorful inclusive playground that gives kids the opportunity to play alongside lifelike marine creatures and seabirds while enjoying ample shade to keep cool on hot days. The city teamed with custom playground company GameTime to design the facility. The equipment includes access ramps and a pair of adaptive swings. As GameTime stated on their website, "Our playgrounds are built for fun, inclusiveness, and to help build great communities."
28. Brooklyn's Playground – Pocatello, Idaho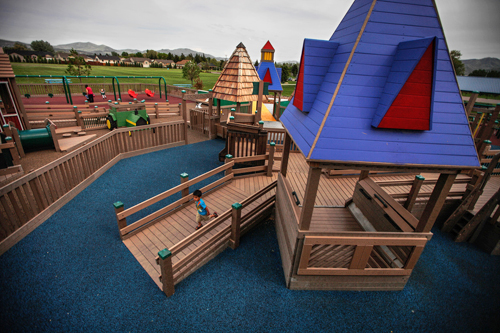 Brooklyn's Playground in Pocatello, Idaho, was named after Brooklyn Fisher, a girl with spina bifida. When Brooklyn was a toddler, her dad sat her in a swing at a play park, and as it had no back support, she fell out and hurt her head. It was then that her parents conceived of the idea for a playground that kids of all abilities could enjoy. Funds from grants and donations flowed in, and within less than a year the park was built for $560,000. The park features ramps, smooth surfaces and therapeutic swings. Visitor Amanda Bakker took her child to the park and placed her in a swing, then noticed a girl in a wheelchair playing on the pirate ship with her friends. "This is what it means to be included," she said.
27. Hadley's Park – Potomac, Maryland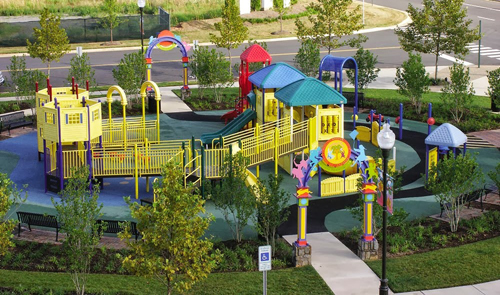 Shelley Kramm established the nonprofit organization Hadley's Park 1996 so her daughter Hadley, who has cerebral palsy, could play with other kids. Kramm raised $750,000, and in 1999, the original Hadley's Park opened in Potomac, Maryland, which was the first accessible playground in the state. The facility features high-specification accessible play equipment such as swings, seesaws and slides, plus wheelchair-friendly surfaces and a wildflower meadow. After the park opened, Kramm found herself in demand from communities throughout the U.S. that wanted similarly inclusive play parks near them. And while the nonprofit was shuttered in 2003, the playground – part of Falls Road Park – is still open, and Kramm continues to help people build accessible facilities.
26. Fairmount Carousel Playground – Riverside, California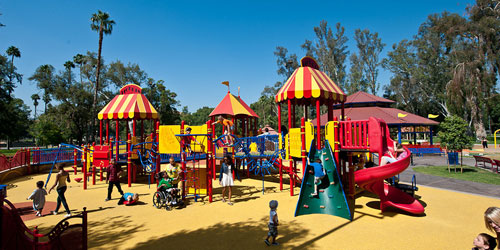 Nestled within the 250-acre Fairmount Park in Riverside, California, the Fairmount Carousel Playground evokes a merry-go-round theme. It features a slide, musical equipment, a splash pad, a carousel and sensory experiences. The Riverside Renaissance project was endorsed by the City Council, while Landscape Structures and Coast Recreation got together to build the park – which was conceived by nonprofit organization Shane's Inspiration.
25. Millstone Creek Park – Westerville, Ohio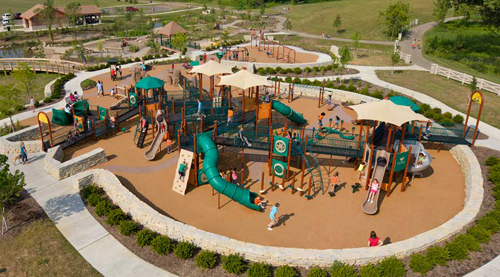 Spearheaded by the City of Westerville, Ohio, Millstone Creek Park is a $1.6 million facility featuring adaptive equipment, designed by Playworld Systems, with a nature-inspired concept featuring bushes-cum-tunnels and wetlands overlooked by a boardwalk with ramps. The play equipment includes accessible swings, musical instruments and a slide that's rated for children who have cochlear hearing implants. Still, the star of the show is arguably the NEOS 360, which is essentially like a huge video game with lights and noises. According to Mara Kaplan of Let Kids Play, playgrounds shouldn't be limited to just having ramps; she says it's better to add adapted swings and sensory apparatus, which make for a more valuable experience. Additionally, children  were involved in the design of Millstone Creek, as they were asked to pitch in on plans before it was built.
24. Friendship Park – Ra'anana, Israel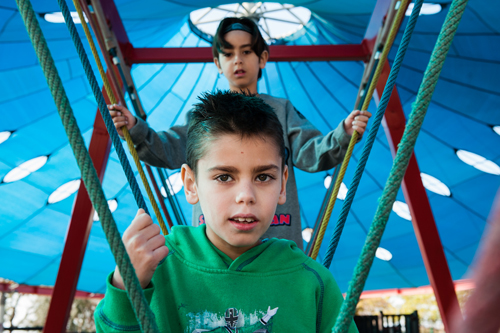 Nestled in Ra'anana, Israel's City Park, Friendship Park was designed to accommodate visitors with various special needs. Sensory therapy expert Michele Shapiro oversaw the design of the acclaimed nine-acre playground, which was funded by the local municipality, the Jewish National Fund and the Jewish National Fund U.K. Shapiro said that the social and physical aspects of the outdoor recreational space operate in tandem. Opened in 2005, Friendship Park made history as the first inclusive playground in Israel.
23. Everybody's Tree House – Germantown, Tennessee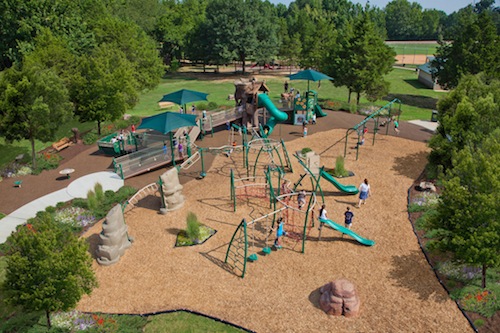 Situated in Riverdale Park in Germantown, Tennessee, the Everybody's Tree House inclusive playground was opened in July 2010, and over 150 volunteers turned up on its community build day. The first phase of the project cost $380,000 – with significant funding coming from the Baptist Memorial Hospital Foundation and the City of Germantown. Meanwhile, play and recreation company PlayCore set up the equipment and provided free design and technical help. In 2011 Everybody's Tree House garnered an "outstanding achievement award" from the U.S. Conference of Mayors. The tree house is positioned amongst native trees and plants and is designed to be accessible to all kids. Moreover, in progress are further plans for the park, including raised sandboxes and interactive gardens.
22. Signal Centers Therapeutic Playground for the Arts – Chattanooga, Tennessee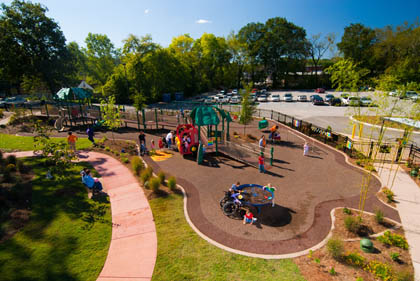 The Signal Centers Therapeutic Playground for the Arts is situated in Chattanooga, Tennessee. This recreational area is intended for kids of all ability levels and was opened in August 2010. At least $215,000 went into the project, an amount generated by Friends of Special Children. Childcare specialists, teachers, staff, and professionals in the fields of licensing, safety and accessibility teamed up on the design, which included plenty of natural elements – not least over 50 species of shrubs, plants and trees – for a truly multi-sensory experience. As a result of all this, the playground achieved certification from NatureGrounds. "Children need interaction with nature during outdoor play," said Signal Centers CEO Donna McConnico. "It stimulates the mind, strengthens the body and helps to develop a sense of wonder and imagination."
21. Rocket Park – Grand Junction, Colorado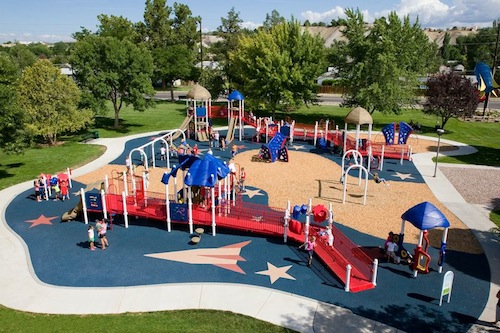 The out-of-this-world Rocket Park in Grand Junction, Colorado has an interesting history. In the 1960s, a rocket-shaped jungle gym was built on the site – formerly known as Melrose Park – and despite it being popular with the locals, in 2009 it was deemed unsafe and put out of service. However, rather than the rocket being consigned to the scrap heap, it was spruced up before being installed as a piece of art at a new inclusive playground. The new park has a cool space theme and was designed by Play & Park Structures. Its budget: around $200,000. The facility has plenty of ramps so that all kids can play on the equipment, while the smooth surface is decorated with retro-looking rockets and stars. Other attractions include interactive games, "rocket control" panels, multi-sensory toys and accessible swings.
<!- mfunc feat_school ->
Featured Programs:
Sponsored School(s)
<!- /mfunc feat_school ->
20. Jacob's Park – Boynton Beach, Florida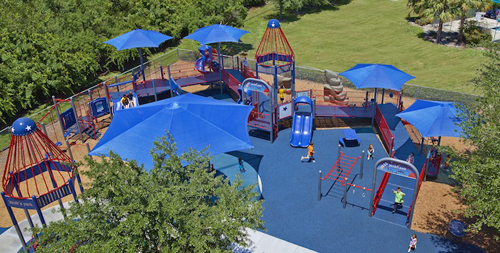 Jacob's Park in Boynton Beach, Florida is a tribute to Jacob Rappoport, who in 2002 passed away as a result of spinal muscular atrophy, when he was less than a year old. To raise awareness about his condition, his parents established the Jacob Isaac Rappoport Foundation. They also used this organizational framework to set up a play area where children of different abilities could have valuable interaction with one another – because if Jacob had lived, he would have faced a lot of physical challenges. Jacob's parents teamed up with GameTime, who designed the inclusive playground. It features ramps, slides, sensory equipment and smooth surfacing. The project cost $193,000 to develop, and a group of volunteers helped to put the apparatus together.
19. Stewart Vincent Wolfe Creative Playground – Yuma, Arizona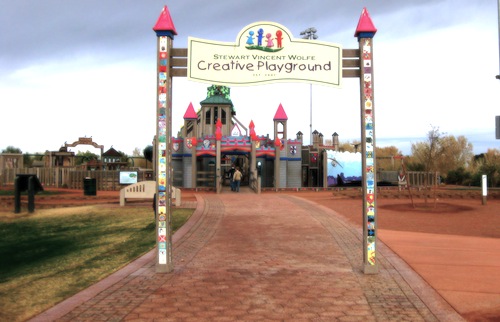 Budding princes and princesses will be itching to explore the castle-themed Stewart Vincent Wolfe Creative Playground, which opened in 2007 in Yuma, Arizona. Stretching over more than three acres, the mega play zone was partly funded by Ron Martin and was named after a friend of his. Designers Leathers & Associates worked with the local community to bring the park to life. More than 8,000 volunteers assisted in building the facility, while 5,000 school kids shared ideas for its design. The playground boasts Pebble Flex surfacing suitable for wheelchairs, lots of slides, a special swing for youngsters with disabilities and even a "fighter jet."
18. Reese's Retreat – Pasadena, California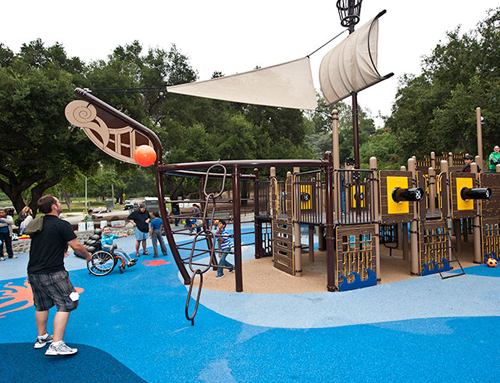 This fabulous pirate ship play park was opened in April 2011 and is to be found in Pasadena's Brookside Park. Reese's Retreat stretches over almost half an acre and is the city's first accessible playground of its type, featuring ramps, wheelchair-friendly flooring, and fun multi-sensory apparatus with sand and water for play. The play park cost $1.2 million to build and was largely funded by a grant from the state. A number of companies and groups contributed to the project's design, including nonprofit organization Shane's Inspiration, which works to help disabled kids. The park is named after the late Reese Elliott, who had special needs and used to adore playing pirates. Some 2,600 of Pasadena's children have special needs, and now they can enjoy having fun with their friends in what has been dubbed "the best playground in Southern California."
17. Zachary's Playground – Lake St. Louis, Missouri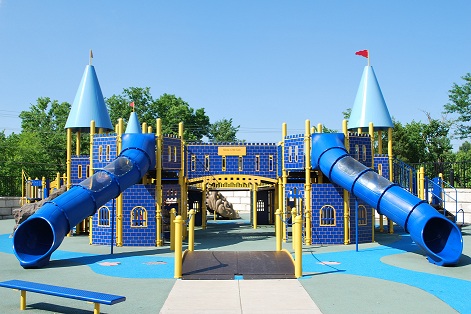 Zachary's Playground is located at Hawk Ridge Park in Lake St. Louis, Missouri. It's named after Zachary Blackmore, whose mother, Natalie, helped set up nonprofit organization Unlimited Play to procure funds for the park. Unlimited Play teamed up with St. Charles Developmental Disabilities Resource Board to make the $750,000 facility happen, while Landscape Structures designed the equipment, which runs along a castle and maritime theme. The park includes accessible swings, a water play feature for warm days, a music space, slides and a net for climbing – complete with special seating. The playground also features surfacing for wheelchair users, as well as an accessible picnic area.
16. Taylor's Dream – Fort Wayne, Indiana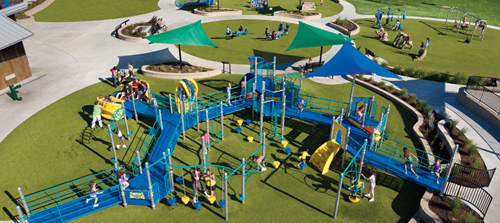 Taylor's Dream is situated in Krieger Park in Fort Wayne, Indiana. PlayWorld Midstates conceived the play park's design, which stretches over 16,530 square feet. Taylor Reuille, at time time an 11-year-old girl, came up with the idea for the inclusive playground, and after many years of funds being raised and grants and donations procured, the facility was opened in 2011. As park visitor Sherry Woodman pointed out, it's not just children who can benefit from accessible equipment, either. "I'm a disabled parent and I couldn't come [to parks] when they were little," she said. "Parents with disabilities are going to be able to come here and feel like normal parents and be able to just enjoy their kids." The park features ramps, a sensory play area, an AeroGlider, a water play section and more.
<!- mfunc search_btn -> <!- /mfunc search_btn ->
15. Clemyjontri Park – Fairfax County, Virginia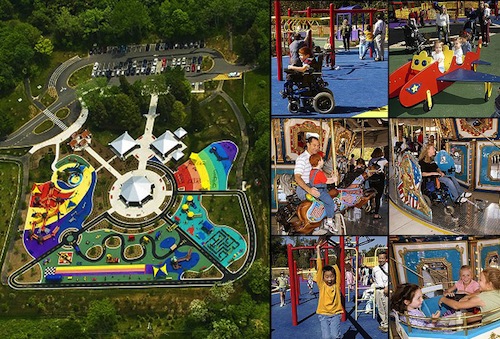 The playground at Clemyjontri Park in Virginia's Fairfax County is tough to miss. It stretches across 2 acres and has a rainbow color scheme. The playground opened in 2006 and is split into four areas, with each section featuring different apparatus, helping kids to exercise their imaginations. There are also plenty of opportunities to get active on accessible equipment, which includes ramps, various special swings and more. The play park's centerpiece is a carousel, which children can even use while still seated in wheelchairs. This unique park was the dream of Adele Lebowitz, who donated land to the local authorities on the condition that it be used to create a playground for children with disabilities. Landscape architect Grace Fielder, who helped develop the park, said, "Its imaginative design really gets all kids into the outdoors expending energy. There is even a wheelchair drag strip."
14. Tony Stewart Playground – Columbus, Indiana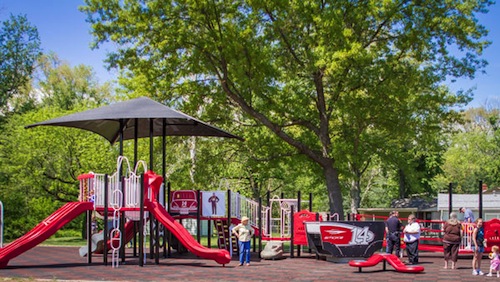 Budding racecar drivers will love the Tony Stewart Playground in Columbus, Indiana, as it has a racing theme. Decked out in a slick red and black color scheme, the park, by GameTime, was opened in 2013. Children of all abilities can play on slides, swings and a Rock-N-Raft, before zipping down ramps and under a set of checkered finish-line flags on a wheelchair-friendly surface. The Columbus Park Foundation teamed up with city local and NASCAR champ Tony Stewart to set up the Race2Play initiative, which drew from over half a million dollars in funding to improve four playgrounds in the area and ensure that "kids of all physical abilities have a good, safe place to play."
13. JT's Grommet Island Beach Park and Playground for Every"BODY" – Virginia Beach, Virginia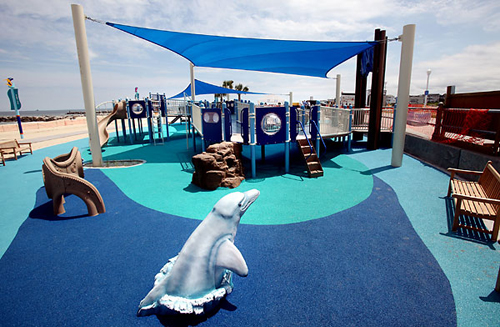 JT's Grommet Island Beach Park and Playground for Every"BODY" was the brainchild of Josh Thompson and his family. Thompson loved the beach and surfing from childhood, but in 2006, while still young, he was diagnosed with Lou Gehrig's Disease – which causes weakness and wasting away of the muscle. After Thompson hung back from a family trip to the beach because of the challenge of negotiating the sand in a wheelchair, his father approached the City of Virginia Beach with the idea of an accessible beach park. City authorities agreed that it was a great idea, and the nation's first such beachfront park was built for about $1 million. The park is decked out with a beach theme; it also features elevated tables for making sandcastles, a "sway board," and a sensory panel that provides entertainment for visually challenged children.
12. Harambee Park – Boston, Massachusetts

The inclusive $740,000 playground at Boston's Harambee Park was unveiled in May 2009. Its funding was furnished by the CVS Caremark Charitable Trust and through a program set out by Thomas Menino, the city's mayor at the time. The facility was developed by Boundless Playgrounds and is the first of this type in Boston. "It allows all kids to take part in the fun and will offer many of them new perspectives and activities that may not have been attainable until today," said Menino. As well as the ramps and wheelchair-friendly surfacing, the playground features high-backed swings, plus play panels and a vibrant purple and yellow color scheme.
11. Can-Do Playground – Wilmington, Delaware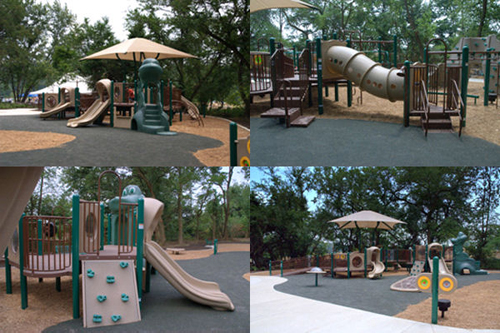 Can-Do Playground in Wilmington, Delaware, was the brainchild of Rotary Club members in the area who thought it would be a great way to commemorate the organization's 100-year anniversary. The 26,000-square-foot facility is positioned in the city's Alapocas Run State Park and features gardens, mazes and games, as well as plenty of special play equipment – such as adapted swings and raised sandboxes. It is classed as a NatureGrounds park thanks to its abundance of plants and trees, which give added value to children's play. As one visitor said, "One of the coolest playgrounds we've ever been to, and I think that can be said for kids of any skills and abilities!"
<!- mfunc feat_school ->
Featured Programs:
Sponsored School(s)
<!- /mfunc feat_school ->
10. Livvi's Place – Five Dock, New South Wales, Australia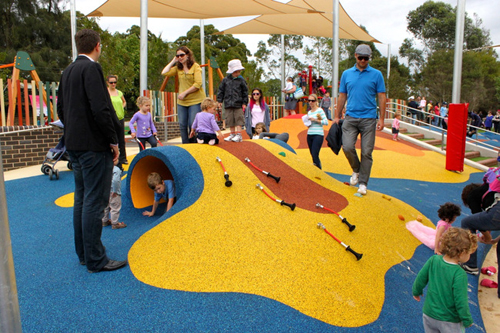 Livvi's Place in Five Dock, New South Wales has the enviable accolade of being the first all-inclusive playground in Australia. It is situated in the Sydney suburb's Timbrell Park. The idea for Livvi's Place started with John and Justine Perkins, whose daughter Olivia died when she was less than a year old as a result of a rare condition. The Perkinses established the Touched by Olivia Foundation, which – among other things – works within local contexts to develop inclusive play parks. The facility in Five Dock features swings, musical equipment, a wheelchair-accessible carousel and more. In 2010, the playground received a tribute from Parks and Leisure Australia for being the country's top play space. Then the following year the Touched by Olivia Foundation picked up the Innovation Prize from World Leisure International.
9. Lake Macquarie Variety Playground – Lake Macquarie, New South Wales, Australia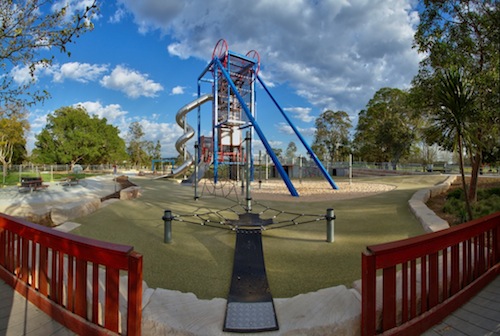 This massive inclusive playground at Australia's Lake Macquarie is alleged to be the biggest play park in the southern hemisphere. Lake Macquarie Variety Playground was commissioned by the local city council and covers almost five acres of land. It features an array of swings – including a wheelchair-accessible Liberty Swing – plus touch-friendly totem poles for kids with visual impairment, an enormous slide, musical apparatus, a play boat that can be enjoyed by wheelchair users, a maze, a secluded area for quiet time, and much more. "I have a child with a disability. This park is both fun and great for developing the motor skills she requires," said one visitor. The $5 million facility was unveiled in 2011, and during the same year it received the Best Play Space in Australia accolade from Parks and Leisure Australia.
8. Hope Park – Frisco, Texas

Hope Park in Frisco, Texas, was the vision of Jenni Jensen, who had to deal with a lack of amenities in the area that were suitable for her daughter with Down's syndrome. Jensen connected with Rene Sinclair and Shannon Swarbrick, and together they pressed ahead with the idea for Hope Park, which is believed to have cost almost $600,000 to build. Designed by Leathers & Associates, the recreational space includes ramps along with a smooth, squashy surface for people in wheelchairs. It also comes set with special swings, a roller slide, sensory equipment and musical instruments. Interestingly, local author Kristan Olfers produced a children's book called One Park for All whose profits went towards the playground's development.
7. Matthew's Boundless Playground – Kissimmee, Florida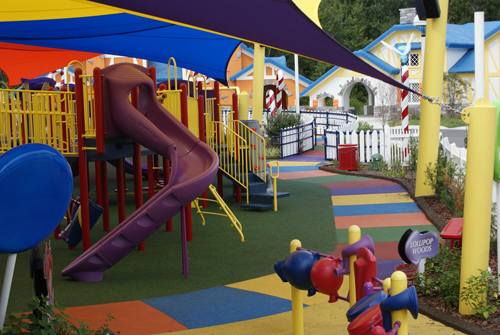 Matthew's Boundless Playground is situated at Give Kids the World in Kissimmee, Florida. Give Kids the World is a fun resort that can be visited by children with critical illnesses and their families for a free, weeklong vacation. Based on the board game Candy Land, Matthew's Boundless Playground invites visitors to the park to wind along a path that takes them via Gumdrop Pass and Lollipop Forest to the magical Candy Castle. The playground was donated to Give Kids the World by Hasbro and was named after Matthew McGowan, who suffered from cancer and passed away in 2007 at the age of 8. As well as boasting special swings and slides, the play park is home to elevated walkways for wheelchairs – and all in delicious candy-colored hues. Excitingly, on Sunday evenings children get to be the "pieces" in the "world's largest Candy Land game."
6. The Play Park – Exeter, U.K.

The Play Park is nestled in King George V playing fields in Exeter, England, and contains everything needed for a great day out. The park came into being through the initiative of Miriam Guard from British learning disability charity Mencap. She felt strongly that a playground should be built for kids of all abilities after hearing about the difficulties of a mother who had an autistic child. The Play Park has received funding from foundations, trusts, private contributors and business donors together with the U.K.'s Big Lottery Fund. This facility features a roundabout, a trampoline, a seesaw and a swing unit, all of which are suitable for children in wheelchairs or with restricted mobility. There's even a gadget that plays happier sounds the higher a child swings.
5. Helen Diller Playground – San Francisco, California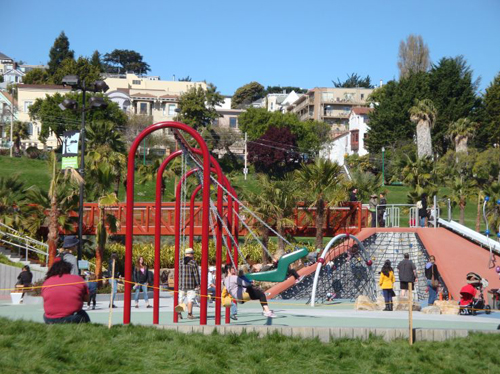 The Helen Diller Playground was named for a local philanthropist and is situated in San Francisco's Mission Dolores Park, this impressive play area came into being thanks to contributions from the Mercer Fund and a couple of key city funding sources, to the collective tune of $3.5 million. The pastel-colored park – designed by Koch Landscape Architecture – includes an enormous 45-foot-long slide, plenty of swings, bongo drums, a giant xylophone, an array of climbing facilities, a raised sand table and more. There's even a pair of wheelchair-friendly play boats, so that kids of all abilities can play pirates and other make-believe games. "Everything here is fun," exclaimed a 7-year-old visitor to the playground. "Everything!"
4. Playground Without Limits – Houston, Texas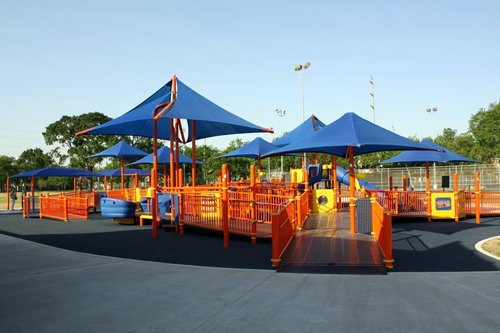 The Playground Without Limits is handily located at the Metropolitan Multi-Service Center in Houston, Texas. The play park features various ramps, so wheelchair users can enjoy 90 percent of the equipment, and there is also an accessible "Sway Fun" glider, sound play devices, and a rehabilitation trail for improving skills. Local philanthropist Dr. Carolyn Farb spearheaded inclusive play parks in Houston through her Playgrounds Without Limits campaign, and the park was funded by way of a grant from the Vale-Asche Foundation. "Play is a vital part of how children grow," explained Farb. "Playgrounds are where children learn to explore, build friendships, and develop social skills they will use throughout their lives."
3. Jake's Place – Cherry Hill, New Jersey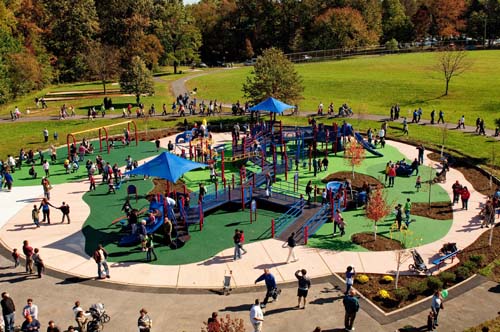 Jake's Place in Cherry Hill, New Jersey, was named for Jake Nasto, who passed away in 2008 at the age of 2. His parents decided to form Build Jake's Place with the purpose of raising the money needed to develop an all-inclusive playground for children. CVS Pharmacies provided a notable portion of the playground's funding, while the rest came through contributions from local people and companies. The park cost roughly half a million dollars to build. Boundless Playgrounds chipped in with the design, which includes sensory sections, a ramp, wheelchair lifts, slides and more. Plus, there are special areas in which autistic kids can spend time by themselves or spin around.
2. Tatum's Garden – Salinas, California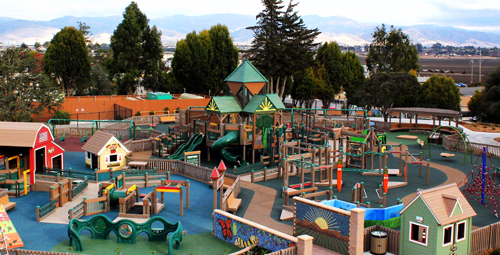 Tatum's Garden in Salinas, California, was inspired by 3-year-old Tatum Bakker, who has spina bifida, the project took 14 months to come to fruition. "I'm so proud of everybody. We took a dream and we made it reality," explained Tatum's mother, Amanda. The surface of the 20,000-square-foot playground is covered in cushioning rubber and the park is filled with wheelchair-friendly ramps and structures, as well as adaptive swings. Taking Brooklyn's Playground in Idaho as their leading example, the Bakkers turned to accessible play park experts Leathers & Associates – the company behind Brooklyn's. They also had the backing of the Salinas Circle for Children together with the support of their local community.
1. Shiver Me Timbers Millennium Park – Lake Charles, Louisiana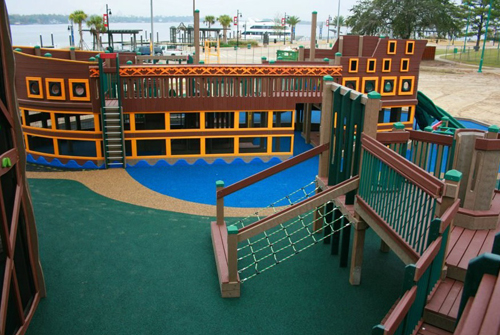 Lake Charles, Louisiana's Shiver Me Timbers Millennium Park was originally unveiled in September 2000. The charming accessible playground was paid for by donors and was constructed by more than 6,000 willing volunteers. The 20,000-square-foot playground is double the size of its predecessor and includes a 40-foot pirate ship, an adaptive swing and the standout Crying Eagles Nest Treehouse – which, like the other big structures, is wheelchair accessible.