<!– mfunc feat_school –>
FEATURED PROGRAMS
SPONSORED LISTINGS
Grand Canyon University
B.S. in Elementary Education / Special Education and M.Ed. in Special Education
Walden University
Online Graduate Certificate in Special Education along with Various Online Education Programs
Capella University
MS Ed - Special Education Teaching
Purdue University Global
MAT and MSEd for K-12 certified teachers / MAT for aspiring grade 5-12 teachers
<!– /mfunc feat_school –>
<!– mfunc search_box_body –>
<!– /mfunc search_box_body –>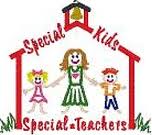 You are compassionate, patient, caring, and kind… You believe all children deserve an equal opportunity to succeed… You are committed to seeing to it that children with disabilities receive the instruction and individualized support they need to support their unique needs… You have what it takes to become a special education teacher.
According to the National Center for Education Statistics, as of the 2014-15 school year, about 6.6 million—about 13 percent of all children in public schools—received special education services.
Better screening tools for identifying and assessing children, coupled with federal laws (Individuals with Disabilities Act-IDEA and Section 504 of the Rehabilitation Act of 1973) that ensure the funds are there to help cover the costs have resulted in a comprehensive set of policies and protocols all aimed at delivering the most effective special education services to children with disabilities.
In 2016, 48 states reported to the U.S. Department of Education that they had a shortage of special education teachers during the 2015-16 school year.
Becoming a special education teacher isn't an easy path, but it's one that is undoubtedly filled with endless opportunities to feel good about what you do every day while making a difference in the lives of children with disabilities.
How to Turn Your Vision of Becoming a Special Education Teacher into Reality
While career opportunities in special education are favorable, only qualified candidates need apply. In other words, if you want to become a special education teacher, you must come prepared with the qualifications set by your state board of education. Here's what you'll need to do:
Earn a Bachelor's Degree and Complete an Approved Teacher Preparation Program
First thing's first: you'll need to complete a bachelor's degree from an accredited college or university that is recognized by your state board of education as an approved teacher preparation program—a program leading to initial state licensure or certification. Your state board of education likely maintains a list of approved programs (or details which types of programs meet this requirement).
Many states defer to the Council for the Accreditation of Teacher Preparation (CAEP), the national accrediting agency for teacher preparation programs. CAEP accredits both on-campus and online teacher preparation programs.
So, what does a bachelor's degree for the aspiring special education teacher look like? It will be designed as either a Bachelor of Science (BS) or a Bachelor of Arts (BA) in Special Education, which prepares you to work with students from K-12, in general education classrooms, resource classrooms, and self-contained classrooms.
Some programs require students to choose a specialization, while others offer a specialization as an option. You might choose to focus your studies on students with mild/moderate disabilities, students with severe disabilities, or birth to age 5.
You may also complete a dual bachelor's degrees in both early childhood/childhood education and special education if you plan to work in the pre-K setting.
Both a BS and BA provide a foundation in the liberal arts, and both include a fieldwork component. Bachelor's degrees consist of about 120 credits and four years of study.
Some of the core courses in a special education program include: Foundations of Assessment, which provides you with the theoretical and practical aspects of treating children with disabilities… Instructional Strategies, which allows you to develop effective instructional practices for students with disabilities… and Curriculum Development, which focuses on the principles of teaching students with disabilities.
Student Teaching
An approved teacher preparation program must include a student teaching experience—a period of classroom training completed under the supervision of a mentor teacher. The student teaching experience provides opportunities for students to develop and demonstrate their pedagogical skills. Most student teaching experiences last a full academic year.
Pass the Required State Licensure/Certification Examinations
Most states require that candidates take and pass a fundamental skills examination and a subject area competency examination to become state licensed. Many state boards use the Praxis Special Education: Core Knowledge and Applications exam when licensing special education teachers.
Earn Initial State Licensure/Certification
All teachers in public schools must hold a state license/certificate through their state board of education. In some states, you may be issued a general special education license/certificate, while in other states, you may need to be licensed (or receive an endorsement) in a specific disability category. Many states have various tiers of licenses, although an initial license is generally granted to those who have completed a teacher preparation program leading to state licensure.
Have You Considered a Graduate Degree in Special Education?
Your education as a special education teacher doesn't need to end at the bachelor's level. In fact, many states now prefer special education teachers to hold a master's degree, and a select few even require a master's degree for obtaining a professional license in special education.
But master's degrees in special education are also often the path of choice for career changers (those who have a bachelor's degree in another field and want to become special education teachers), and current educators (licensed educators looking to make the switch to special education).
Even if you live in a state that doesn't require a master's degree for teaching special education, you may choose to pursue a master's degree to specialize in a specific area of special education. For example, many programs allow you to focus your graduate study on areas like high-incidence disabilities, autism spectrum disorders, and emotional or behavioral disorders. Further, if you want to transition to a career in administration, a master's degree is usually a requirement.
Your previous education and training will often determine the type of master's degree you choose:
Master of Education (MEd): The MEd is a professional graduate program designed for licensed/certified special education teachers interested in focusing their career on a specific area of special education.
Master of Arts in Education (MAed)/Master of Science in Education (MSed): Both the MAed and the MSed are flexible programs that allow students to pursue advanced study in a wide array of special education areas. Some programs also lead to initial teacher licensure/certification.
Master of Arts in Teaching (MAT): The MAT is a unique program designed for career changers who hold a bachelor's degree in another field or practicing educators who want to make the switch to special education.
Master's degrees consist of between 50-60 credits and about two years of full-time study. While admission requirements vary, most programs require a competitive undergraduate GPA (usually 3.0 or above). Depending on the program, you may also need a current teaching license and teaching experience, along with a current resume and professional letters of recommendation.
Many colleges and universities offer master's degrees in special education partially or fully online to accommodate busy, working professionals who need the flexibility that online study provides. While these programs are completed through distance-based study, many schools offer dynamic, interactive learning platforms that provide students with plenty of  opportunities to connect with their professors and peers throughout the program.