Reviewed by Mary McLaughlin, Special Education Teacher; M.S. SpEd
<!- mfunc feat_school ->
Featured Programs:
Sponsored School(s)
<!- /mfunc feat_school ->

Share this infographic on your site!
Stephen Hawking: A Brief History of his Life and Times
"My goal is simple. It is complete understanding of the universe, why it is as it is and why it exists at all."
Beginnings: His Personal Life (1942 – 1966)
Jan. 8, 1942: Stephen William Hawking was born in Oxford, England to Frank and Isobel Hawking. His parents had two other children, Mary (1943) and Philippa (1947) and adopted their second son, Edward, in 1956.
FACT: Hawking was born on the 300th anniversary of the death of Galileo.
1950 – His father became head of parisitology at the National Institute for Medical Research, at which time the entire family moved to St Albans, Hertfordshire.
<!- mfunc search_btn -> <!- /mfunc search_btn ->
1953-1958 – Hawking attended St Albans School. His father wanted him to attend Westminster School, but couldn't afford the tuition without the aid of a scholarship. Unfortunately, 13 year-old Stephen was ill on the day of the scholarship examination, so he remained at St Albans.
FACT: While at school, Hawking never got very good grades. He was never higher than the middle of the class when it came to grades. In fact, at one point he was only three spots from the bottom. Despite that, his classmates gave him the nickname "Einstein"
He developed an early interest in Science, and wanted to attend university for Mathematics. Acceding to his father's wish for him to attend University College, Oxford, Stephen decided to study Physics since Oxford did not offer a mathematics degree at the time.
1959-1962 Hawking began attending Oxford, studying physics, at age 17. Being younger than the other students, he had a difficult time for the first year and a half.
STUDY HABITS: Throughout his years at Oxford, he found the work quite easy and as a result studied very little, only an estimated 1,000 hours in his three years there, an average of about an hour a day.
In his last year at Oxford, Hawking began to exhibit increased bouts of clumsiness, and after a fall down some stairs, a trip to the doctor yielded the advice "Lay off the beer."
1962: After receiving first-class honors degree in Natual Science from Oxford, he started graduate work at Trinity Hall, Cambridge.
FACT: Upon returning home for Christmas, his family encouraged him to see a doctor about his increased clumsiness and frequent bouts of slurred speech.
1963 – Hawking attended a New Year's party where he met his future wife, Jane Wilde. She was attracted to his "Sense of humor and his independent personality."
Hawking, now 21, was diagnosed with Motor Neurone Disease (Or ALS Amyotrophic lateral sclerosis, or in the United States, Lou Gehrig's Disease) a debilitating neurological disease that causes patients to lose control of their voluntary muscles.
FACT: At age 21, doctors gave him a life expectancy of two years.
FACT: The average age for getting ALS is 55; Hawking got it at 21.
1964 – Jane Wilde accepted his marriage proposal, helping Hawking pull out of his depression and continue his research.
1965 – Inspired by Roger Penrose's theorem of a space-time singularity in the center of black holes, Hawking wrote his thesis based on applying that theory to a much larger scale, the universe itself.
Meanwhile, he and Jane Wilde married on July 14, 1965.
1966 – Hawking completed his studies and obtained a doctorate in philosophy in March, 1966. That year, an essay, "Singularities and the Geometry of Space-Time" won him that year's Adams Prize.
FACT: The Adams Prize is awarded each year by the Faculty of Mathematics at the University of Cambridge and St John's College to a young, UK based mathematician for first-class international research in the Mathematical Sciences.
A Brief History of Time (1967 – 1990)
"The greatest enemy of knowledge is not ignorance, it is the illusion of knowledge."
1967 – Jane and Stephen's first son Robert, was born in May 1967.
1968 – Hawking collaborated with Roger Penrose, a continuation of his work on the singularity theorem concepts proposed in his thesis. Their joint essay came in second place in the 1968 Gravity Research Foundation competition.
1969 – Hawking's health worsens to needing crutches, before finally he was confined to a wheelchair, despite protest on his part.
1970 – Hawking discovered what became known as The Second Law of Black Hole Dynamics. His daughter Lucy is born November 2, 1970.
1971 – His essay "Black Holes" won the Gravity Research Foundation award in January, 1971.
1973 – "The Large Scale Structure of Space-Time," Hawking's first book, is published. He also began research into quantum gravity and quantum mechanics, discovering that his findings contradicted the previously established second law.
1974 – The results he presented in 1974 made Hawking an international celebrity, despite contradicting his second law, his findings showed that black holes emit a form of radiation.
• This radiation needed a name of course, and so we now have Hawking Radiation.
• In March, 1974, just a few short weeks after the announcement of Hawking Radiation, Stephen Hawking became a Fellow of the Royal Society.
FACT: The Royal Society of London for Improving Natural Knowledge is a learned society for science, which today serves as a scientific advisor to the British government.
Awards, prizes and fame
1974: Hawking was appointed to the Sherman Fairchild Distinguished Scholar visiting professorship at the California Institute of Technology (Caltech)
1975 – Hawking was awarded the Pius XI Gold Medal for Science from Pope Paul VI.
1978 – Hawking was awarded an honorary doctorate from the University of Oxford.
1979 – Hawking returned to Cambridge, where he was awarded one of teaching's most renowned posts, the Lucasian Professor of Mathematics. Established in 1663, the position has only been held by 14 people, including Sir Isaac Newton.
Stephen and Jane welcomed their third child, Timothy in April, 1979.
1981 – At a Vatican conference he presented work suggesting that there might be no boundary—or beginning or ending—to the universe.
1982 – Hawking was made a Commander of the Order of the British Empire, an order of chivalry established in 1917 by King George V. That same year, he began work on what would become one of his most popular books, A Brief History of Time.
1983 – In collaboration with Jim Hartle a notable physicist and professor at the University of California, they published a model, known as the Hartle Hawking state, proposing that before the Planck Epoch the universe had no boundary in space-time; that there was no time before the Big Bang as time did not exist before the formation of space time.
That essentially the concept of the beginning of the universe is meaningless.
1985 – While in Geneva, Hawking caught pneumonia, which with his already worsening ability to breath became a life-threatening situation.
As a result of the required tracheotomy, Hawking lost what little remained of his voice.
A computer programer from California responded to Hawking's need by developing a speech synthesizing program that could be directed by head or eye movement.
1988 – Hawking's book, A Brief History of Time is published. It sells 10 million copies, and is translated into 40 languages.
• The book presented quantum mechanics, string theory, and the big bang theory in a fashion more accessible to the public.
• It is a massive hit, and skyrockets to the top of the bestseller lists in both the US and the UK.
Moving Forward
"My expectations were reduced to zero when I was 21. Everything since then has been a bonus."
1990 – By 1990 Stephen and Jane's marriage had become severely strained, and they separated.
1992 – A documentary about Hawking's life, titled A Brief History of time, directed by Errol Morris and produced by Steven Spielberg, premiered.
1993 – Hawking published a collected edition of his own articles, Black Holes and Baby Universes and other Essays.
FACT: Having heard that he was interested in appearing on the show, Leonard Nimoy approached Hawking, and so in 1993 Stephen Hawking appeared as himself in an episode of Star Trek: The Next Generation.
1995 – Stephen and Jane divorced, which he followed quickly with his marriage to Elaine Mason, a nurse that he had fallen in love with prior to his and Jane's separation.
1997 – A six part mini-series, Stephen Hawking's Universe, premiered on television.
2001 – Hawking published The Universe in a Nutshell, a book that won the Aventis Prizes for Science Books in 2002. He also appeared in the documentary, The Real Stephen Hawking.
2004 – Nurses tending Hawking reported to the police their belief that Hawking was being physically abused by his wife, Elaine Mason. Police investigations were started, but were later called off when Hawking denied the allegations.
2005 – Hawking publishes A Briefer History of Time, an update and rewrite of his 1988 work, A Brief History of Time. His disease-related deterioration continued, and in 2005 began to control his communication device with the muscles in his cheek.
2006 – Hawking and his wife Elaine file for divorce, after which he resumed his close relationship with his children, grandchildren and ex-wife Jane.
2007 – Hawking and his daughter Lucy published George's Secret Key to the Universe, a children's book aimed at presenting the basics of theoretical physics in a manner appropriate to children. It would go on to have two sequels.
That same year he went on a zero gravity flight, during which he experienced weightlessness 8 times, and even performed some acrobatic maneuvers.
2009 – Hawking's health problems continued to worsen, and by 2009 could no longer drive his wheelchair independently. He continued to suffer from increasing respiratory problems, missing a conference in Arizona due to a chest infection.
<!- mfunc search_btn -> <!- /mfunc search_btn ->
In 2009, he received America's highest civilian honor, the Presidential Medal of Freedom.
2010 – Hawking published his first major work in over a decade, The Grand Design. The book argued against the idea that God created the universe. In it he said, "Because there is a law such as gravity, the universe can and will create itself from nothing,"
2011 –Hawking participated in a trial for a device called the iBrain. The device is designed to pick up changes in the wearer's electrical brain signals, which are then interpreted by a special algorithm.
• Hawking said "I wish to assist in research, encourage investment in this area, and, most importantly, to offer some future hope to people diagnosed with A.L.S. and other neurodegenerative conditions."
Fact: Stephen Hawking has appeared on numerous American TV shows, including The Simpsons, Futurama, and The Big Bang Theory.
Famous people who had ALS disease
Lou Gehrig, hall of fame NY Yankee baseball player
Mao Zedong, Chinese Communist leader
Charles Mingus, jazz musician
David Niven, famous actor
Stephen Hawking, brilliant scientist, best-selling author
Star Turn: In the 2004 movie Hawking, actor Benedict Cumberbatch (Star Trek Into Darkness) played the young Hawking.
The 10 Smartest Living People in the World
10. Stephen Hawking, 70, author of 6 best selling books, 14 awards of recognition: IQ: 160
9. Judith Polgar, chess champion, IQ: 170
8. Sir Andrew Wiles, mathematician, IQ: 170
7. Paul Allen, co-founder, Microsoft, IQ: 170
6. James Wood, actor, IQ: 180
5. Gary Kasparov, chess champion, IQ: 190
4. Rick Rosner, TV writer, IQ: 192
3. Kim Ung Yong, IQ: 210
2. Christopher Hirata, astrophysicist, IQ: 225
1. Terrence Tao, professor, UCLA, IQ: 230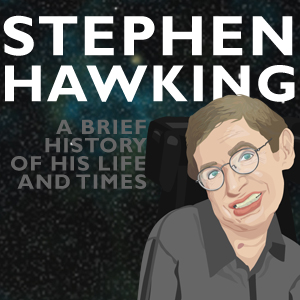 Sources:
http://coolfunpedia.blogspot.com/2013/04/the-top-10-smartest-people-in-world.html
http://www.hawking.org.uk/about-stephen.html
http://science.howstuffworks.com/dictionary/famous-scientists/physicists/10-cool-things-stephen-hawking.htm
http://www.imdb.com/title/tt0395571/
https://sites.google.com/a/jeffcoschools.us/stephen-hawking-by-charlie/home/accomplishments
<!- mfunc feat_school ->
Featured Programs:
Sponsored School(s)
<!- /mfunc feat_school ->