<!- mfunc feat_school ->
Featured Programs:
Sponsored School(s)
<!- /mfunc feat_school ->

Share this infographic on your site!
How Special Education Students Are Among the Biggest Victims of Federal Spending Drops
Across the country, advocates for children with disabilities are grappling with the impact of federal budget cuts to special education programs. Let's explore the impact and how many young people's lives are affected.
<!- mfunc search_btn -> <!- /mfunc search_btn ->
Widespread Effects
2013's massive budget cuts (the sequestration) included a 5 percent reduction in federal funding of the Individuals with Disabilities Education Act (IDEA), which has had major negative effects on children across the country.
Not only are children and their families affected, so are educators who are under the risk of pay cuts or job losses.
300,000
Special education students whose programs will be or have been affected by federal budget cuts
7,800
Jobs that could be lost as a result of the cuts
State-by-state effects
Reduction in Individuals with Disabilities Education Act Part B Grants for fiscal year 2013:
US $578,892,762
AL 8,915,770
AK 1,919,022
AZ 10,040,553
AR 5,633,069
CA 62,855,318
CO 8,108,108
CT 6,314,489
DE 1,839,638
FL 31,092,117
GA 17,458,448
HI 2,035,593
ID 2,865,332
IL 24,657,563
IN 12,376,969
IA 5,770,827
KS 5,251,785
KY 7,688,909
LA 9,752,289
ME 2,586,535
MD 9,719,363
MA 13,418,282
MI 20,279,289
MN 9,199,308
MS 6,123,987
MO 10,762,593
MT 1,919,022
NE 3,529,607
NV 3,775,945
NH 2,247,666
NJ 17,085,902
NM 4,354,823
NY 36,378,359
NC 16,776,161
ND 1,493,764
OH 22,008,413
OK 7,300,677
OR 6,372,225
PA 21,381,079
RI 2,067,098
SC 8,583,510
SD 1,779,462
TN 11,706,600
TX 51,026,919
UT 5,672,990
VT 1,440,274
VA 13,878,260
WA 11,251,352
WV 3,589,871
WI 10,097,151
WY 1,510,990
DC 924,976
What Is Happening?
The across-the-board cuts to federal education spending have resulted in:
Services cut or eliminated for millions of students.
Funding for children living in poverty, special education, and Head Start slashed by billions.
Ballooning class sizes.
Elimination of after-school programs.
Decimation of programs for our most vulnerable—homeless students, English language learners and high-poverty, struggling schools.
Slashing of financial aid for college students.
Loss of tens of thousands of education jobs—at early childhood, elementary, secondary and post-secondary levels.
Not Living Up to Promises
Under the IDEA, the government committed to helping make up the difference in the cost of educating a disabled student and a general student. But it's never even come close to coming through on that commitment.
40%
Percentage of difference promised
18.5%
Highest percentage of difference given
14.9%
Percentage given under sequestration
<!- mfunc search_btn -> <!- /mfunc search_btn ->
Why Does it Matter?
For millions of students with special needs, these programs have proved crucial to their development and success later in life.
1 in 3
Students with learning disabilities who don't finish high school
3 in 5
Students with emotional disabilities who don't finish high school
Arrest rates for youth with disabilities who drop out of school
Emotional/behavioral disabilities 73%
Learning disabilities 62%
$51,000
Amount taxpayers spend per year to incarcerate one person
$11,500
Amount needed to educate one child with a disability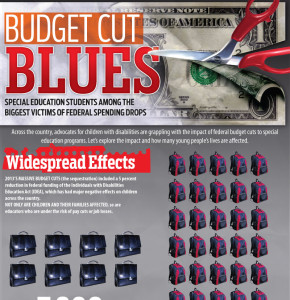 SOURCES:
http://www.pewstates.org
http://www.nea.org
http://www.ncset.org
<!- mfunc feat_school ->
Featured Programs:
Sponsored School(s)
<!- /mfunc feat_school ->